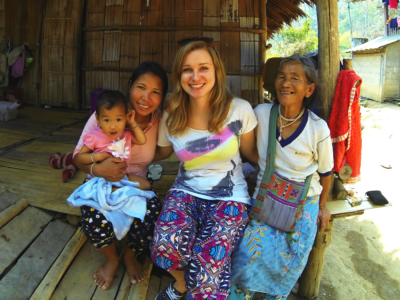 Petra Vegnerova
Volunteering in Thailand was definitely the best way how to celebrate the end of my studies. I came back with experiences that I would have never gained from traditional vacations. The slow and light-hearted way of life in an indigenous village disconnected from the outside world was one of the best experiences of my life. There was no electricity, no warm water and mainly no time; the concept of being "early" or "late" does not exist there. People wake up with the roosters and go to sleep when the sun disappears behind the mountains. No problem is a "real" problem. I would recommend at least a week in Chiang Rai to everyone who wants to find a piece of mind, learn about authentic culture of an indigenous tribe and do something good for this comunity of amazing and positive people.
Conny Muelenborn
I met a bunch of foreigners from all over the world; some great, interesting and unforgettable people and even some friends for life. Volunteering changed my way to look at life. It made me realize how blessed I am to be able to do this. It helped me sort my priorities in life again.
Jaroslav Jindra
There are many ways to perceive volunteering. For me, it means holidays when I can escape the everyday stereotype, travel an exotic country, meet new people and help a good cause. Compared to a standard vacation, volunteering is for more intense experience that resonates long after the project is over. I fully recommend a volunteering to everyone who wants to experience something beyond a standard travelling, who wants to enrich himself but also help others.
Veronika Andrisani
After I left the corporate world I had an amazing opportunity to fulfil my dream and I went to Thailand to volunteers as English teacher in a local grammar school. The reality exceeded my already high expectations. I got to know a new culture, I established new friendships with people who now inspire me, I began to enjoy little things in life again and I gained a new perspective and confidence. When someone asks me what I enjoyed the most in Thailand, I say that I enjoyed everything. This "EVERYTHING" had one thing in common – feelings of excitement, happiness, unity, meaningfulness, positivity and being proud of who I am.
Patrick Brosnan
For me the first volunteer camp is the best travel experience in my life ever. This was the first time a travelled so far and into middle of nowhere. I had plenty of time there for thinking and see all those differences between my world and the world of locals. The work with marine turtles beneath the clear starry sky was amazing. A time I would never forget.
Stepanka Weberova
The volunteer project in Bangladesh I participated in can be summarized in few words of complete satisfaction. I spent there ten wonderful weeks and experienced many unique moments. I am very grateful that I had the opportunity to escape the routine of everyday life, I had a chance to experience something new and, especially, to do something that was making me happy and helping the others at the same time. I was assisting teachers during English lessons for children from the slums. The local organization provides them also many other services, not only education. It was a pleasure to work with the children, they were very playful, communicative, curious and very grateful. The team is full of friendly and nice people who are happy to spend time with you. We also could travel and learn more about the culture of Bangladesh. This country, the organization and the work offers the opportunity to get a new and unique view of the world, it allows you to find yourself and to do something which immediately shows the results of your work. It was a greatly spent time, for both me and the children.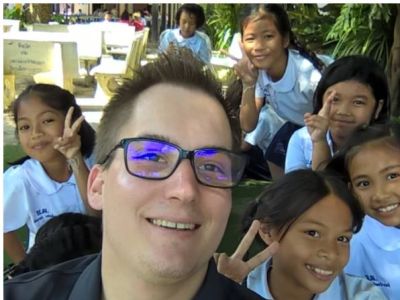 Ivan Hruška
Voluntair gave me peace of mind for this trip. From the first contact they were attentive and professional. Having a local contact back home available for my family and I was a real comfort.
Martina Hušková
I keep saying that my last volunteer camp has saved my life. After being terribly exhausted from work and private life I disappeared for three weeks to participate in a wildlife volunteering program in Central America. Far away from the internet and telephone reception, I enjoyed simple pleasures such as an abandoned beach, clear blue sky and the sound of ocean. The program was very interesting and rewarding and I believe we made a difference. It made me happy and content in my life again and this feeling lasted long time after I returned back to the "civilization". I believe everyone should experience volunteering abroad; it would make this world a better place.